ZeniMax Online has released a new Greymoor preview detailing the new Antiquities system that is coming to the game as part of the Greymoor release.
Here's how you can dig up Tamriel's history and become a renowned treasure hunter:
With the new Antiquities system arriving as part of the Greymoor Chapter, you can travel all over the continent (and beyond!) as a member of the Antiquarian Circle and dig up Tamriel's hidden history while discovering unique collectibles, treasure, and even powerful Mythic items.
This new system includes two unique mini-games: Scrying, where you use a new tool to augur the location of hidden items, and Excavation, where you actually dig them up! While this new system is unlocked with the Greymoor Chapter, it'll actually take you all over Tamriel, not just Western Skyrim.
NEW SYSTEM, NEW EXPERIENCES
"With Antiquities, we wanted to create a new activity wholly unlike what you've done before, and give you a reason to return to the places you might've already explored," explains Michael Schroeder, one of ZOS's senior Systems Designers and lead for the new system. "We wanted to celebrate the entirety of Tamriel–every region, every era–and create a whole new way for you to investigate its mysteries."
To create this experience, the team wanted to keep the gameplay for the new system short, ensuring that everybody can have fun scouring Tamriel for forgotten relics and knowledge.
"Antiquities would well be described as something enjoyed over a cup of tea. The activities are short, puzzle-based bursts of gameplay. We wanted the system to be accessible to a wide variety of players, so we made sure these activities don't require lightning-fast reflexes or a deep knowledge of combat."
Like crafting writs, Antiquities are designed to be played and enjoyed in quick sessions, although you could spend all day and night collecting leads, scrying, and digging if you so wish!
TREASURE AND LORE
It was important that this new system have broad appeal in both its gameplay and rewards. No matter how you play ESO, there's bound to be something you can dig up that you'll find valuable.
"We wanted to provide something for everyone," explains Schroeder. "There are new adornments and costumes for roleplayers, the new Magicka Lance siege weapon for PvPers, new Motifs and a new Enchantment for Crafters, tons and tons of furnishings for housing players, and Mythic items designed to change builds."
These rewards also include the incredible Ebon Dwarven Wolf, which you'll need to uncover piece by piece!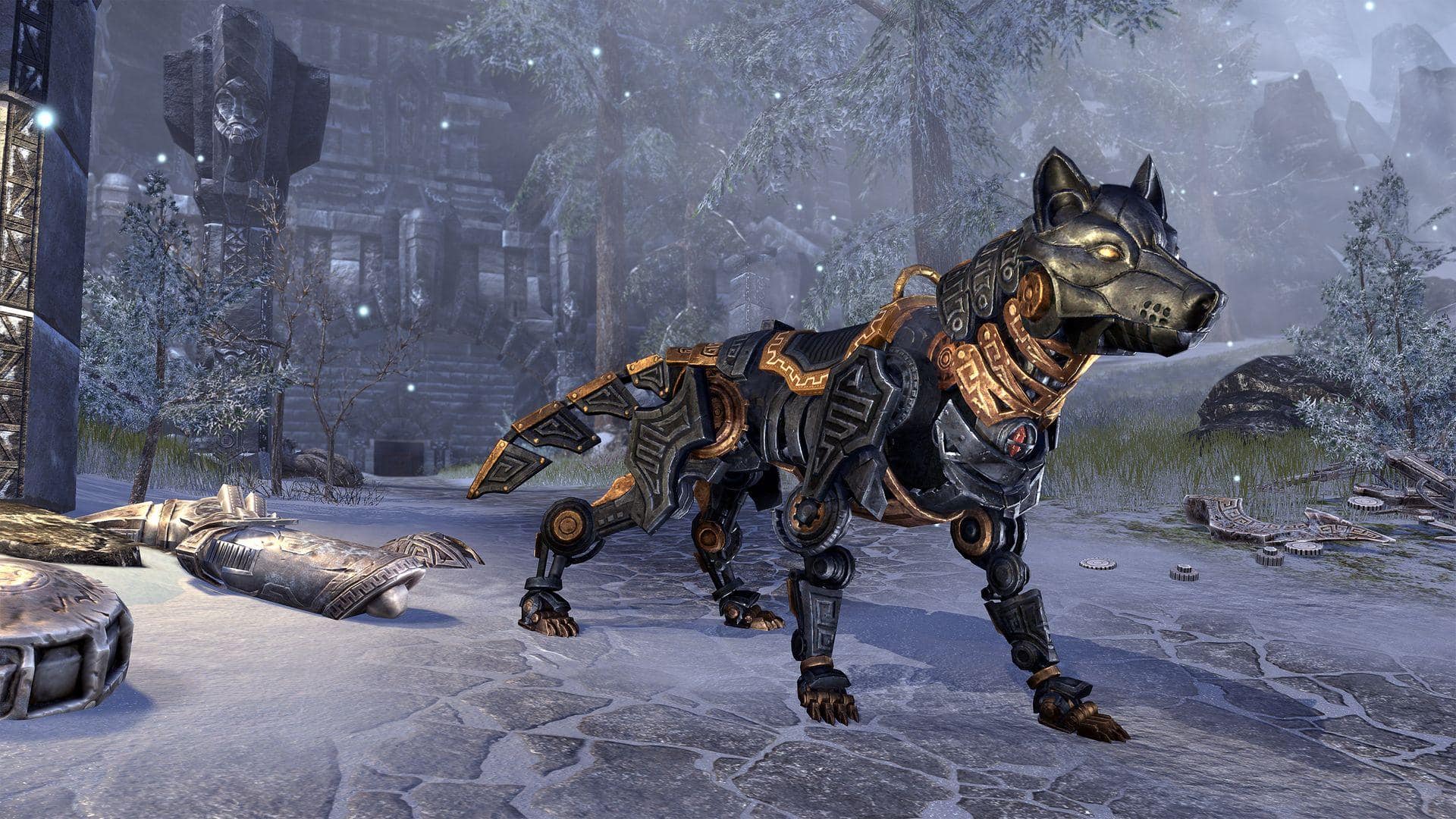 Collect all the parts to earn the Ebon Dwarven Wolf mount!
In addition to these physical rewards, as you dig up Tamriel, you'll also discover lost knowledge and secrets pertaining to its history and peoples.
"When crafting the system's rewards, we really asked ourselves, 'What elements of Tamrielic history can we shine a light on?'" explains Leamon Tuttle, ESO's Loremaster. "Some of the things we developed support or expand on more established lore, and some of them provide a new perspective of well-known cultures. Lesser known deities, defunct cultural practices, races lost to time, and puzzling historical mysteries all have a place in the system."
What you discover might illuminate some aspects of Tamrielic lore or ignite the fires of debate. With this new system, you'll be a part of the scholarly discussion of ESO's lore, and the team is looking forward to seeing how you and your fellow players further interpret your findings.
NEW SYSTEM, NEW CHALLENGES
When building this new system, the team worked together to ensure that all aspects of Antiquities was engaging, understandable, and fun.
"For a system like this that doesn't quite fit a mold, we relied super heavily on collaboration within the Antiquities team," explains Bobby Weir, ESO's Lead UI Designer. "This involved a ton of brainstorming between UI Design, Art, Systems, Engineering, Writing, QA, etc. We had to go way outside the box and do a lot of things we haven't done before. Having a talented group of minds offering varied perspectives on the team made that possible."
Building a new system is a complicated endeavor, and this created unique challenges for the UI team in particular if they wanted to ensure that it was as approachable as possible for all players.
"The mini-games were definitely the most challenging part of this," says Weir. "There's constant effort toward making them feel true to the story of what the player is doing while also focusing on their gameplay and accessibility. Excavation in particular is unique because it's the first time we've relied so heavily on in-world fixtures and effects to create a UI."
DIG UP THE PAST
With the new Antiquities system, the team aims to create an experience that is both challenging and rewarding, approachable but also technical. As you level up your antiquities Skill Lines and pick up more and more leads, you'll find yourself slowly mastering the new system and challenging yourself with more difficult expeditions until, finally, you earn the coveted title of Master Historian!
Greymoor releases on May 26th for PC, and on June 9th for PS4 and Xbox One.